Summer is not the only time of year for gathering friends and family for fun times. There's just something about fall that makes you want to have a bonfire and sit outside enjoying the cooler, crisp air. Whether it's tailgating with the gang before your favorite team's football game, or a night with friends on the deck, we have some great ideas for fall-inspired cocktails – and a mocktail too.
Maple Bourbon Old-Fashioned
Try a sweet spin on the classic cocktail courtesy of Delish.com, makes 1
Ingredients
2 teaspoons maple syrup
1 teaspoon water
1 dash bitters
1 orange zest curl
2 ounces bourbon
1 maraschino cherry, for garnish
Instructions
Combine maple syrup, water and bitters in a glass, stirring until well blended. Add a few blocks of ice and the orange peel, then pour bourbon on top.
Garnish with a cherry and serve.
Hot Mulled Cider
Try this warming cocktail courtesy of foodandwine.com, serves 8.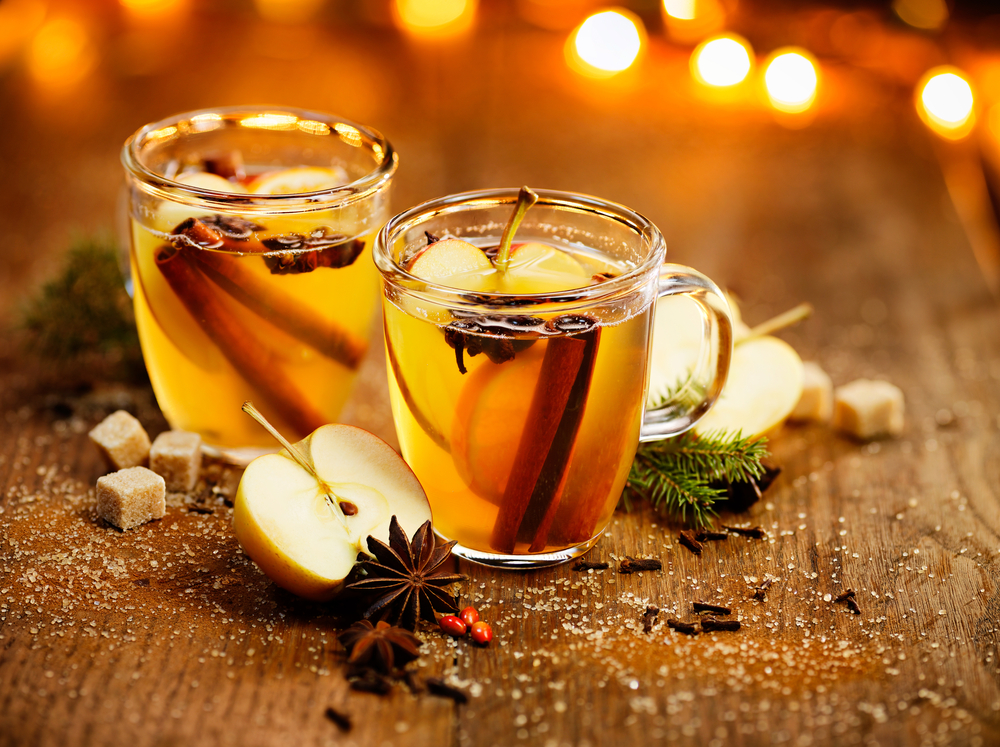 Ingredients
1 gallon apple cider
3/4 cup dry white wine, such as Chardonnay
1/4 cup honey
2 quince—peeled, cored and finely chopped
One 4-inch rosemary sprig
Two 3- to 4-inch cinnamon sticks, broken
4 cloves
1 star anise
1/2 teaspoon grated lemon zest
Instructions
Combine the cider, wine, honey, quince, rosemary, cinnamon, cloves, star anise and lemon zest in a large saucepan and simmer over low heat for 45 minutes.
Strain the mulled cider and discard the solids.
Serve the mulled cider warm.
Make Ahead
The strained mulled cider can be refrigerated overnight. Reheat before serving.
Bourbon Ginger Snap
This one takes a little more time, but tastes amazing (everyone will want the recipe). The recipe serves 20 – perfect for those times when you're hosting. Recipe courtesy of RealSimple.com.
Ingredients
2 quarts water
1 cup fresh lemon juice
1 cup honey
1 3-inch piece of fresh ginger, peeled and sliced
6 cups fresh orange juice
4 cups pear nectar
1 liter bourbon
2 lemons, thinly sliced
ice, for serving
Instructions
In a large saucepan, combine 2 quarts water, the fresh lemon juice, honey, and ginger; bring to a boil. Reduce heat and simmer for 5 minutes. Strain into a large bowl; let cool.
Add the orange juice, pear nectar, bourbon, and lemons to the lemon syrup. Serve over ice.
Pumpkin White Russian
A delicious autumn twist on the classic White Russian cocktail courtesy of pizzazzerie.com.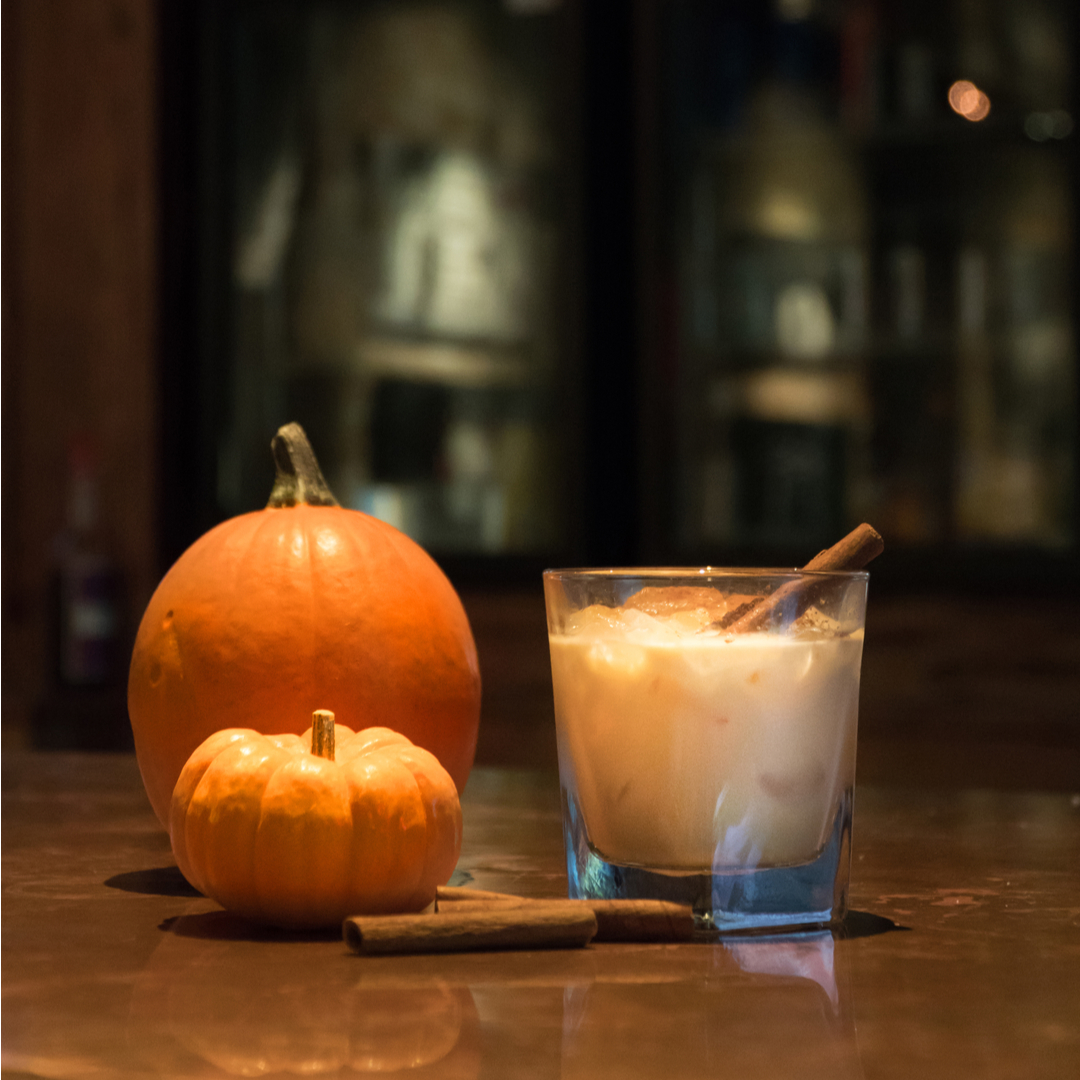 Ingredients
2 ounces Pinnacle® Original Vodka
1 ounce coffee liqueur
1 ounce heavy cream
1 tablespoon canned pumpkin puree
2 teaspoons pumpkin pie spice
Instructions
Add all ingredients to a cocktail shaker filled with ice. Shake and strain over ice. Garnish with a additional pinch of pumpkin pie spice.
Apple Cider Mimosas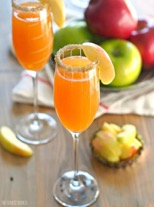 You only need two ingredients to make these – Champagne and apple cider. You can garnish the rim with caramel, sprinkles or cinnamon sugar. This one is a fun and creative spin on the Classic Mimosa. Recipe and image from The Cookie Rookie.
Ingredients
1/2 cup Apple Cider
1/4 cup Champagne
Gold and silver sprinkles for rim of glass (optional)
Apple slices for garnish (optional)
Instructions
Dip the top of each champagne glass into water and then dip in the sprinkles to coat.
Pour each champagne glass 1/2 – 3/4 full with apple cider.
Top with champagne.
Pomegranate Blueberry Mocktail
This beautiful beverage includes pomegranate juice and soda, white grape juice and frozen blueberries for a sweet-tart dose of antioxidants.  Recipe courtesy of everydayannie.com.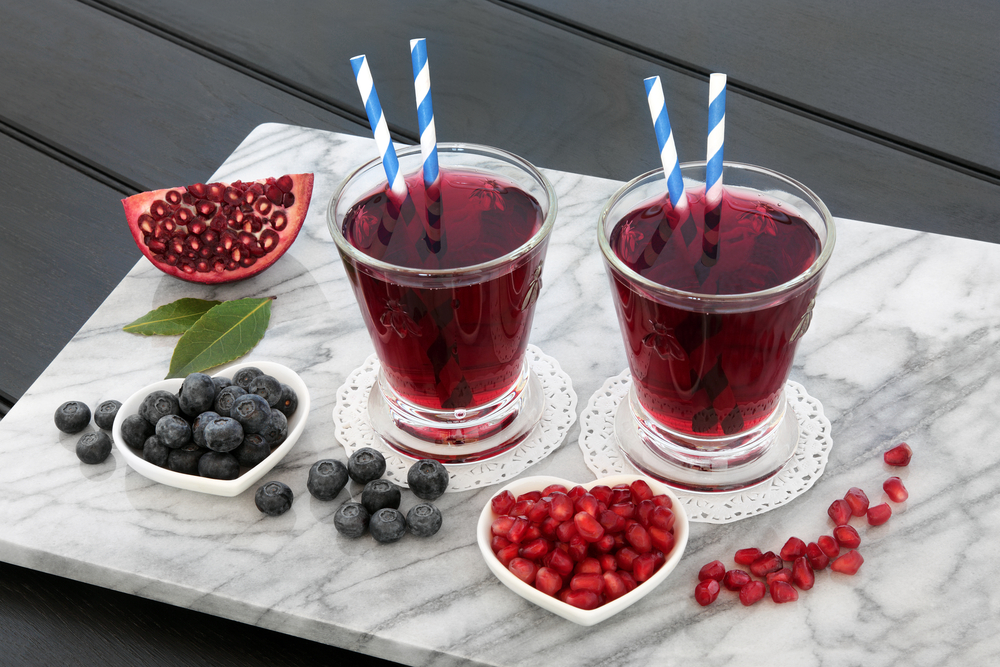 Ingredients
¼ cup fresh or frozen blueberries
3 ounces pomegranate soda
3 ounces pomegranate juice
2 ounces white grape juice
Lemon slices, for garnish
Instructions
Add blueberries to a glass and mash slightly.
Fill glass with ice, if desired.
Combine the soda, pomegranate juice and white grape juice.
Pour the mixture into the glass with the blueberries and garnish with a slice of lemon.